WHEN TO START LOOKING
You want to start searching for your dress about six to nine months before your wedding day. There's several reasons for this but most importantly it has to do with ordering and alterations. It's pretty common for manufacturers to take four months to make your dress and alterations can take as long as two months to make.
WHAT IS YOUR BUDGET
You will also need to come up with a realistic budget for your dress. Figure out how much you want to spend and make sure to tell your salesperson in the very beginning. You don't want to lose your heart to a dress that you can't afford. Don't forget that your budget needs to include your veil, undergarments, alterations and any other accessories. If ordering your dress, you might also need to have it professionally pressed and steamed which can tack on even more fees.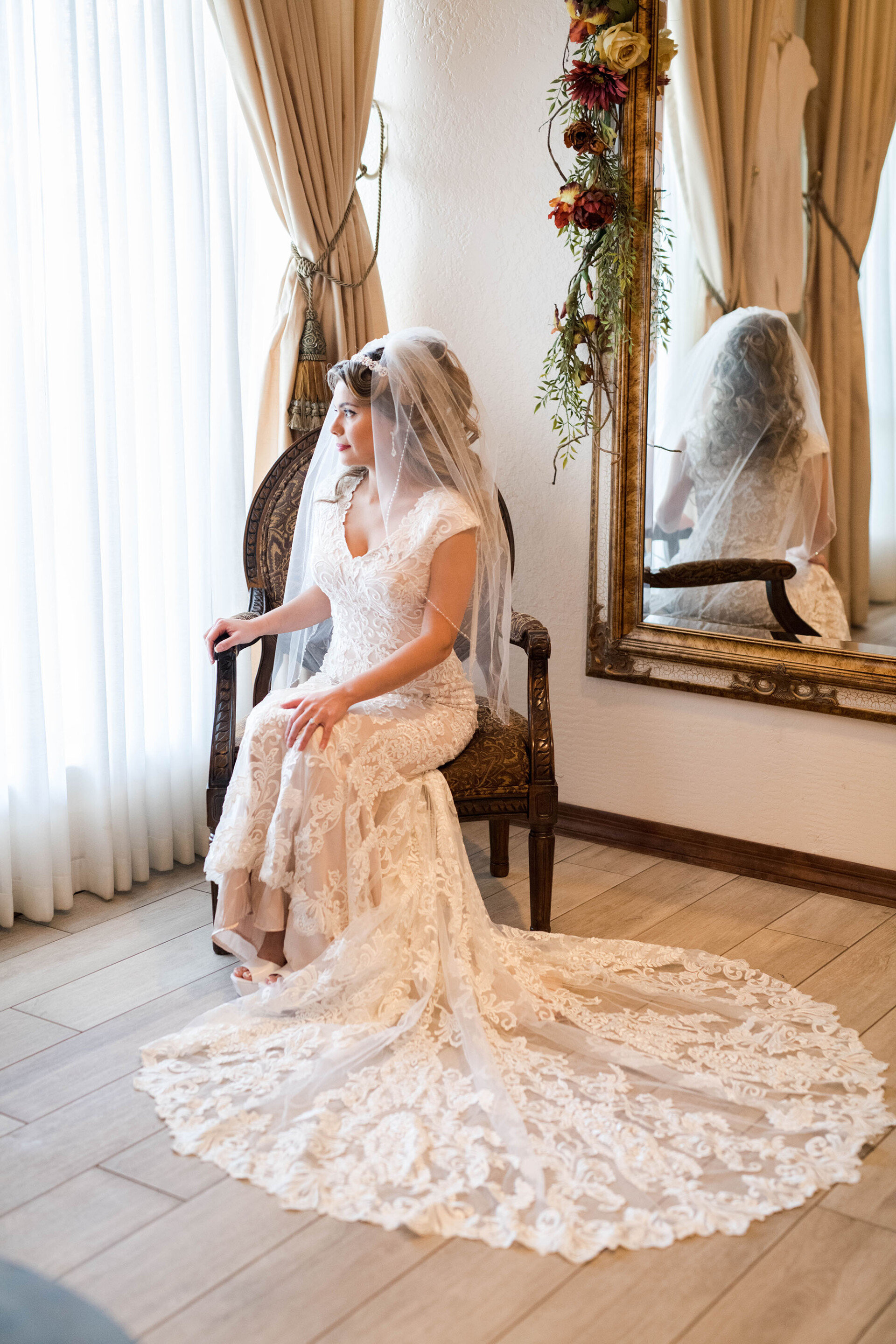 RESEARCH
Wedding dresses tend to fall into six different categories. Ballgown, Empire, mermaid, fit and flare, sheeth, and a-line. Do your research. Look at bridal magazines and websites. Heaven knows there's a bazillion wedding dress quizzes you can take online to help you find the perfect shaped dress for your body type. Start a Pinterest board if you haven't already. Who are we kidding? We already know you've had a Pinterest board for your wedding since you were 14 years old. But seriously, start pinning your favorite dresses and the latest styles. Hopefully after you've started pinning quite a few, you start to see a pattern emerge with your favorite look.
WHO SHOULD GO
Pick your favorite and most trusted family members and friends to accompany you to the dress shopping excursion. My recommendation is to pick one or two trusted people. Trust me on this. This bit advice will simplify your life. Hosting a large entourage while wedding dress shopping is going to add a lot of opinions and a lot of confusion which could result in one very overwhelmed bride. An opinionated entourage can be frustrating. Pick two trusted people who know your taste and who will be honest with you. Make it a special outing for just the three of you. 
HOW DOES THE DRESS MAKE YOU FEEL
Have you thought about how you want your wedding dress to make you feel? Are you going for a modern look? Traditional? Sexy? Are you incorporating something vintage in your wedding story? Also, keep an open mind. Some dresses might not look like much on the hanger but might look like $1 million on you. Try on everything. Even the styles that you're not drawn to on the hanger. You might be surprised with what you end up loving. I will add, don't confuse "looking good" with "feeling good" while in a dress. 
DRESS LOGISTICS
Make sure after you've tried on your dress that your trying out how comfortable your dress is as well. Can you sit down? Can you dance? Will it fit down your aisle? 
SCHEDULING APPOINTMENTS
It's important to vet at least 2 to 3 bridal salons in your area and engage with the one that speaks to your needs the most. Brides do themselves a disservice by visiting too many dress salons. This can be unnecessarily overwhelming. 
WHAT TO BRING WITH YOU
Take anything you know that you will want to wear with the dress such as a special necklace, or your grandmothers wedding veil. Some wedding dress shops will provide things like bustiers, strapless bras and shoes but if you know what you want to wear, you may want to bring your own. Bringing nude underwear is also going to simplify your life at these appointments.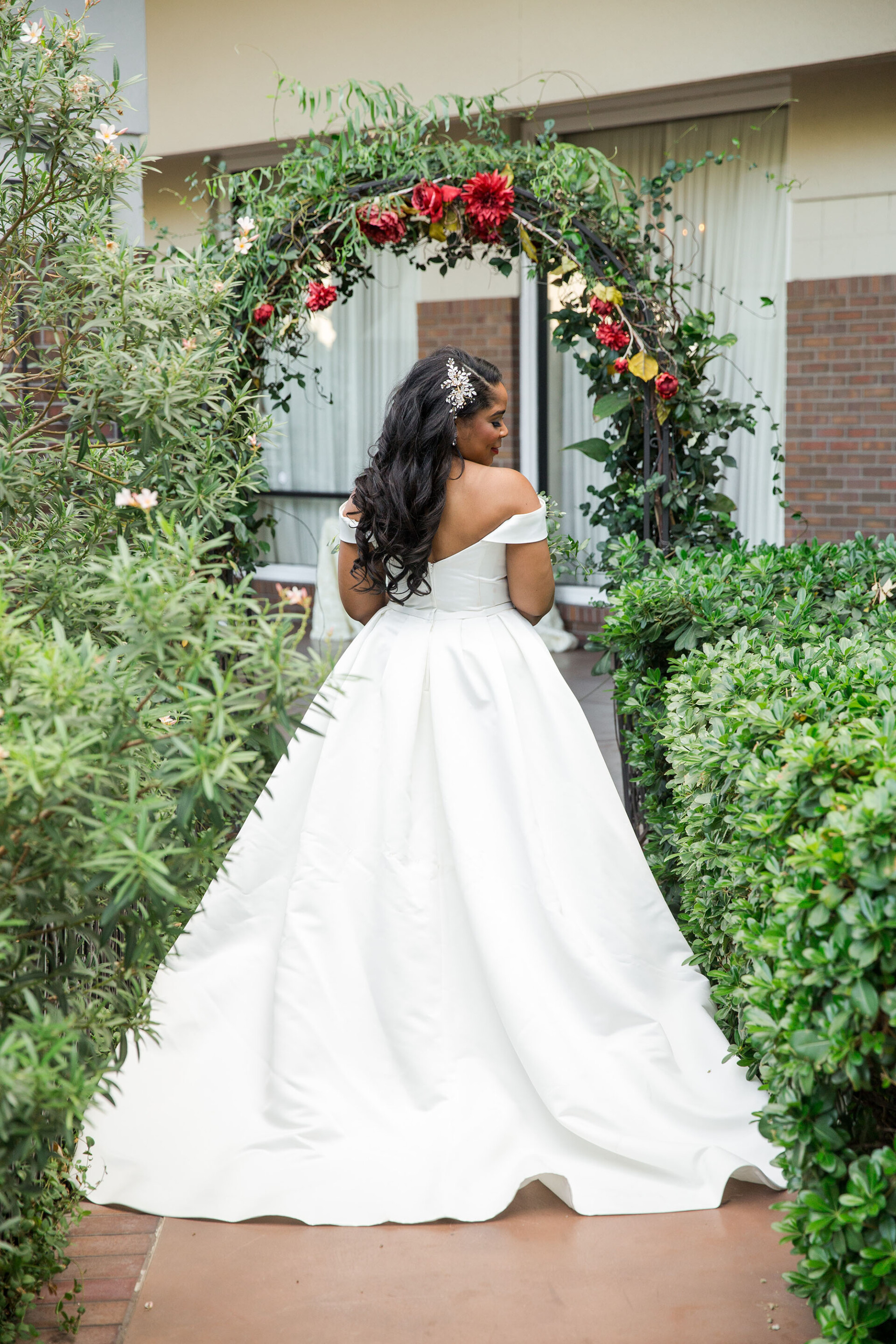 NAVIGATING DRESS SIZES
Remember when trying on your wedding dress that wedding dress sizes are in their own category. Wedding dress sizes tend to run smaller than your day today clothing. Make sure to take accurate  bust, height, hip and waist measurements. Don't count on sizes that you hope to be on your wedding day. Go with your current measurements. So remember to focus on the fit, not the size. If you normally wear an 8, you may need to purchase a size 12 wedding dress. Forget the numbers and don't insist on smaller sizes. Especially because you intend to "lose weight" before the wedding. Order the dress that fits now. It's easier to take in a dress but much more difficult to let one out. 
And of course, go with the dress that makes you happy. Do not get talked into purchasing a gown that you're not in love with. I recommend to take a moment to focus on what this day is really about. Figure out the feeling for your celebration and don't lose site that you are marrying the love of your life!
Start Planning Your Dream Wedding