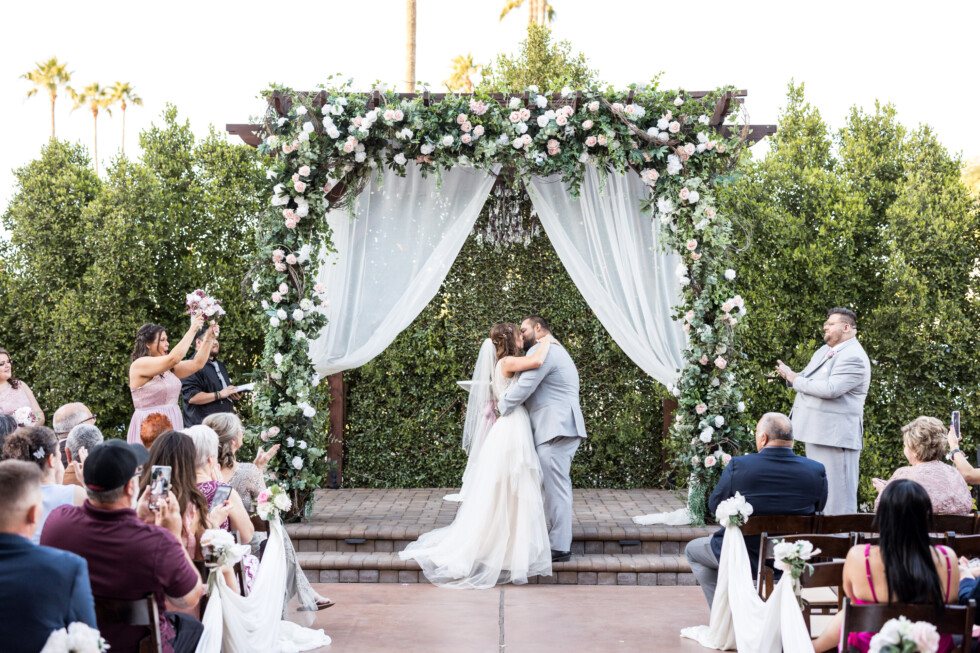 Your wedding day is one of the most important days of your life, an occasion where you and your loved ones get to celebrate and share in the love you have for your partner. However, weddings can be a significant expense, and it can be easy for couples to quickly overspend their budget. While flexibility is important and things do not always go as planned, trying as much as possible to stick to the budget you have decided upon can help you prioritize the elements of your wedding you care about most and avoid unnecessary spending on elements you don't.
At Villa Tuscana, our goal is to provide every couple with a luxurious wedding experience at an unbeatable price. Here are a few tips to keep in mind when planning your dream wedding to ensure your special day is one to remember, without breaking the bank.
Be Realistic
When setting a budget for a wedding, it is important for couples to be realistic about how much they are able to spend and allocate funds accordingly. While a wedding is a momentous occasion that will provide memories that will last you and your spouse a lifetime, overspending or not accounting for specific expenses can quickly get you into trouble. You should not have to sacrifice elements of your dream wedding just to save money, but by being discerning and planning well ahead of time, it can be easy to get a grasp on how much everything will cost and what you can really afford.
The time of year your wedding is held can also play a large role in the cost of your wedding, as particularly in the Arizona climate it can be challenging to find availability in the cooler months or have to brave the heat during the summer months. Often an indoor ceremony can be a cost-effective choice, giving you greater flexibility when planning and allowing for a more intimate setting for you and your guests.
Prioritize Expenses
One of the main advantages of a detailed and thought-out budget is that it gives couples the flexibility to decide what aspects are most important to them and plan accordingly. For many, there are elements of a wedding that are essential and they can't imagine doing without, but others are not as crucial. By making a list of items that you and your partner agree are necessities, you can better gauge ways to cut costs without sacrificing the wedding you have always dreamed of.
One popular trend many couples utilize is serving a signature drink instead of stocking a full bar. If there is a cocktail you and your partner really enjoy, it can be a fun idea to share it with guests, giving you a creative way to cut down on beverage costs without sacrificing guests' enjoyment.
Be Discerning with the Guest List
One of the biggest expenses for a wedding is the guest list, and while many couples want as many friends and family as possible to be there to celebrate with them, the costs of a large guest list can quickly add up. While it can be discouraging to have to be more selective with whom you choose to invite, prioritizing close friends and family can have a huge impact on allowing you to stay within your budget. Many couples prefer a smaller, more intimate wedding, but even if your dream is a huge ceremony, going without even a few guests can make it easier to stay on track.  
Be Flexible
An important consideration when planning and budgeting a wedding is that sometimes things may not go as planned. Weddings often include a lot of moving parts, and even if you have planned your special day down to the smallest detail, sometimes things go wrong that you can't account for. Part of a successful budgeting strategy is being willing to amend and adjust your plans when necessary, and staying open to new opportunities and substitutions if called for. At the end of the day, even if not everything goes entirely to plan, you can still enjoy a beautiful and memorable occasion with the person you love.
Why choose us?
At Villa Tuscana, we offer spacious outdoor and indoor ceremony and reception options sure to provide the perfect backdrop to your big day. Our indoor reception halls are highlighted by beautiful Tuscan décor and can comfortably accommodate up to 300 guests. We also offer over 40 color themes to choose from, ensuring we can bring your dream wedding to life. Our courtyard and park make for memorable photo shoots and serve as the perfect outdoor environment for your wedding or reception. Be sure to check out our wedding packages and contact us today if you are looking for the perfect venue for your big day at an unbeatable price.
Start Planning Your Dream Wedding